Fess ASP
Overview of Fess ASP
Fess(Full-tExt Search Sever) is Open Source Software for Search Solution.
N2SM provides Fess ASP as a service.
Fess ASP is very useful for corporate sites and EC sites.It is very short time to start to use Fess ASP and Fess ASP reduces the IT cost.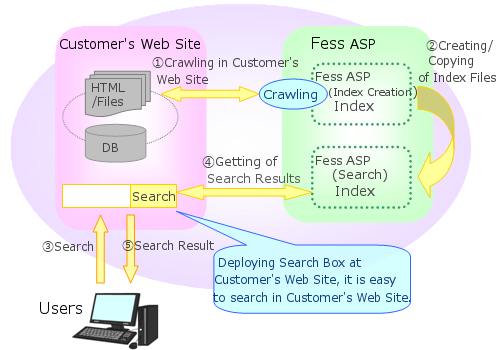 Features of Fess ASP
Search Assist function(Suggest function)
With input of a few characters, candidates are displayed.
Related keywords display function
Keywords related to the searching keyword are displayed.
One shop increases 10-20% of revenue by this function.
Related products display function
Related products are displayed on the screen of the search result.
Tags function
With the registration of tags on the search target, it will be possible to search by tags on the search screen.
High precision search
It is able to search as the same words about different notations, for example, upper/lower case, double-byte/single-byte.
Because various file formats, PDF, MS Word, MS Excel and so on, can be searched, there is no search leakage.
Not only for web sites but also file servers and databases can be searched in a cross-sectional way.
Fast search response
Using Fess (Full-tExt Search Sever) which is Open Source Software for Search Solution, the search response is fast. It is suitable for the site which has many pages or documents.
Understanding of the user needs from the search logs
Aggregating the search logs, the search keywords, item counts and so on, the user needs are understood. They are very useful for the improvement of the Web site and the Web marketing.
XML/JSON format output
Because it is possible to output the search results as XML/JSON format, this service can be used for various sites of customers.
Contact us
Inquiries about the product.
Please send e-mail to sales@n2sm.net